Kirk & Co. has worked with the joint venture partnership between the Canada Lands Company (CLC) and the Musqueam, Squamish and Tsleil-Waututh nations since 2016, developing and supporting the implementation of a strategic communications plan. Kirk & Co. has been providing communications, engagement and graphics support to the CLC-MST joint venture for the redevelopment of two significant parcels of land on the west side of Vancouver. These developments are of great significance to the nations, creating new places where they are actively re-visioning land that they have inhabited for millennia.
Working with the leadership of the partners, Kirk & Co. developed a strategic communications and engagement plan that guides communications with the public, local government, key stakeholders and the media for the joint venture. The plan was developed through a number of interviews with leadership of the nations and their respective economic development corporations and Canada Lands Company.
The implementation of the plan included the development of two, three- to five-minute feature videos which introduce the partnership, the unique opportunity to shape the future of Vancouver, and the collaborative nature in which the partnership is seeking and considering input into planning of these lands.
We also supported the development of a brand and visual identity for the Jericho Lands planning process called Inspire Jericho. The engagement brand needed to complement the City of Vancouver's planning program, pair well with the MST Partnership visual identities, and reflect the history of the Jericho Lands and the vision for redevelopment. Our work resulted in a brand voice that reflects the historical values, traditions and culture of the lands, is welcoming of all cultures, and serves the community's values and aspirations for the future.
Project
Jericho Lands and Heather Street Lands
Client
Joint Venture of the Canada Lands Company and the MST Partnership (a partnership of the Musqueam, Squamish and Tsleil-Waututh nations)
Scope
Strategic communications, community engagement, engagement brand identity and graphic services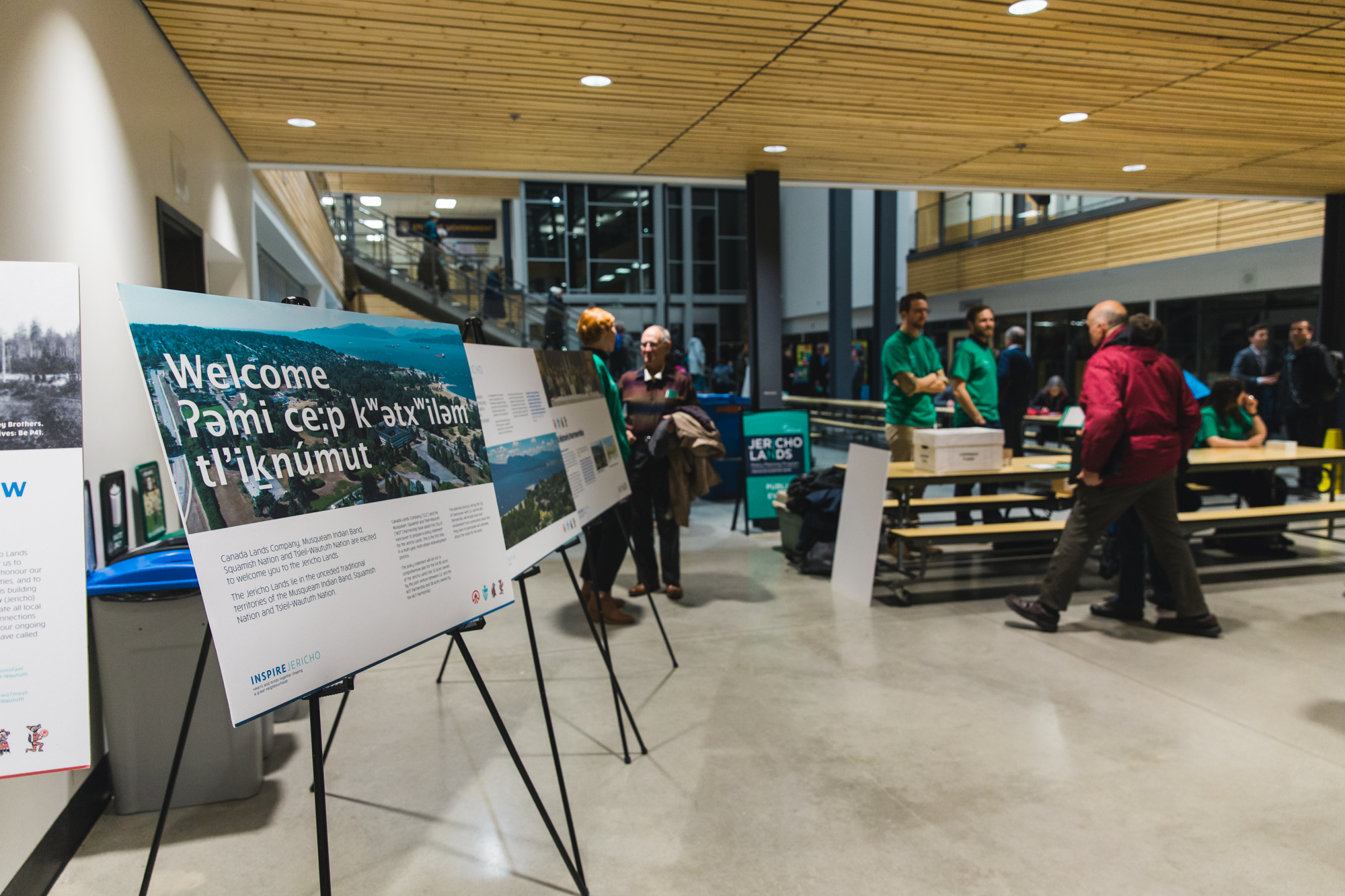 In 2014, a partnership of the Musqueam Indian Band, Squamish First Nation and Tsleil-Waututh First Nation (collectively the MST Partnership) and Canada Lands Company entered into a historic joint venture partnership, the first of its kind in Canada.
Canada Lands and the MST Partnership share ownership as 50/50 partners in two parcels of land in the City of Vancouver:
Jericho Lands (East), a 52-acre (21 hectare) property in the Point Grey neighbourhood
Heather Street Lands, a 21-acre (8.5 hectare) site in the Cambie Street corridor
The goal of the joint venture is to transform these lands into inspiring, progressive and sustainable new neighbourhoods that are welcoming and a benefit to the community, while being harmoniously integrated with the local neighbourhoods there today.
In doing this, the joint venture will optimize the value of these lands, generating opportunities and careers for members of the Musqueam Indian Band, Squamish Nation and Tsleil-Waututh Nation, and generating a return on investment for all of the partners, and Canadians.
The Kirk & Co. team has provided the joint venture with excellent strategic advice, communications and design services. They are responsive, work efficiently, and have helped us identify and capture communications opportunities.

Deana Grinnell and Brennan Cook

Deana Grinnell, Vice President, Real Estate, British Columbia and Ontario, Canada Lands Company and Brennan Cook, Vice President, Development, MST Development Corporation