Kirk & Co. worked with the College of New Caledonia (CNC) to develop the 2016-2020 Strategic Plan – Promoting Student Success, including consultation planning and implementation, as well as content development and graphic design services for the Strategic Plan.
Our team worked with CNC to develop a comprehensive consultation plan that outlined the purpose, goals, and approach to reach CNC's diverse audiences across six campuses. This plan included extensive external and internal stakeholder consultation to identify priorities and seek feedback on the draft Strategic Plan through a variety of engagement methods. This approach was designed to ensure that stakeholder feedback was considered in the development of the Strategic Plan and reflected in the final plan as much as possible.
Kirk & Co. provided writing and graphic design services to create engaging notification materials, a consultation discussion guide and feedback form, a consultation summary report, and the final Strategic Plan.
Project
2016-2020 Strategic Plan
Client
College of New Caledonia
Scope
Consultation and engagement, and graphic design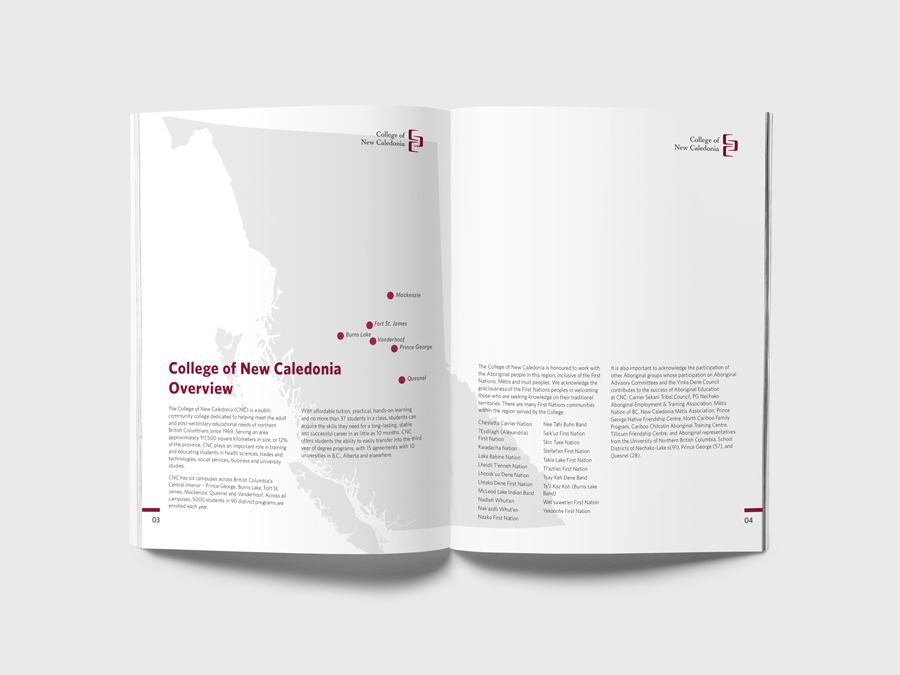 The College of New Caledonia is a post-secondary educational institution that offers more than 70 programs across six campuses in the Central Interior region of British Columbia. Established in 1969, CNC takes pride in providing accessible opportunities for learning, high quality teaching facilities, and a strong physical presence across the region, which enables students to attend classes within their home communities. The college region spans a geographic area of 148,000 square kilometers and encompasses three school districts, 11 local government municipalities and 21 First Nations communities.
CNC has an outstanding track record, including high rates of student satisfaction, successful employment outcomes and positive transitions to further education. The College is recognized as a major and valued partner in community development, as well as a rural post-secondary institution that is looked to as a leader.
Learn more: College of New Caledonia